Return to portrait mode to see the content
Jul 15, 2021
·
4 min reading
How to get video customer reviews simply and for free?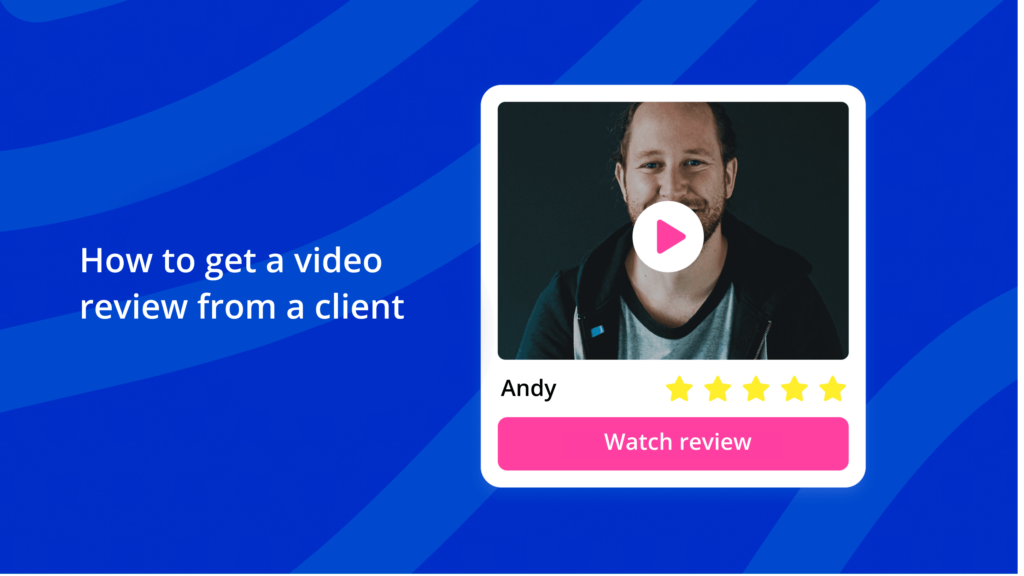 In this article, we will show you how to get reviews and interviews that will reveal your company from the best side.
A positive video review of your product or service is one of the best ways to let potential clients know about the quality of your work. According to a study by educational site Econsultancy , 63% of customers are more likely to make a purchase on a site that has user reviews.
However, text reviews are easy to cheat, as they do not show a real person behind them. Video reviews show a real person, and they are trusted 90% more than written ones.
Getting a positive video review and feedback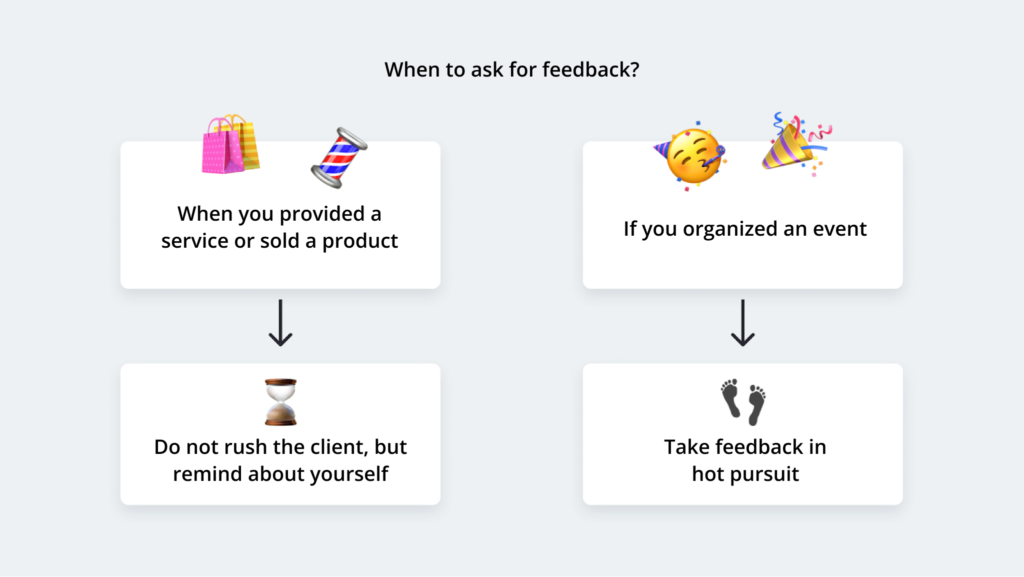 When to ask for a video review?
Your work with a client has come to an end: you have closed a deal, sold a product or provided a service. You see that the client is happy. He sincerely smiles, thanks, and you are sure that he had a positive review. The next step is to share this experience with the world so that as many people as possible know how great it is to work with you!
If you worked with a client one-on-one, call or email. Ask the customer to leave a review. Do not rush him with an answer, but remind him in a couple of days. If the client does not have the opportunity to do this, he will say so directly.
Example: real estate transaction or IT outsourcing.
If you've been organizing an event, then taking feedback "in hot pursuit" before the emotions subside is the best idea. This will convey the sincerity of visitors, and the emotional background will affect their words about you and reduce the chance of a negative review.
Example: immediately after the concert with the audience or after the wedding with the guests.
What to ask for feedback?
Most of the questions depend on the field of activity, but there are also general ones that are suitable for reviews in any situation.
TIP: If you are arranging to receive feedback in advance, send the client a list of questions two days before the interview. This will give you the opportunity to prepare and save time for additional installation. With the list of questions, clarify that you are not asking the client to memorize the answers, but simply to go over the list of questions.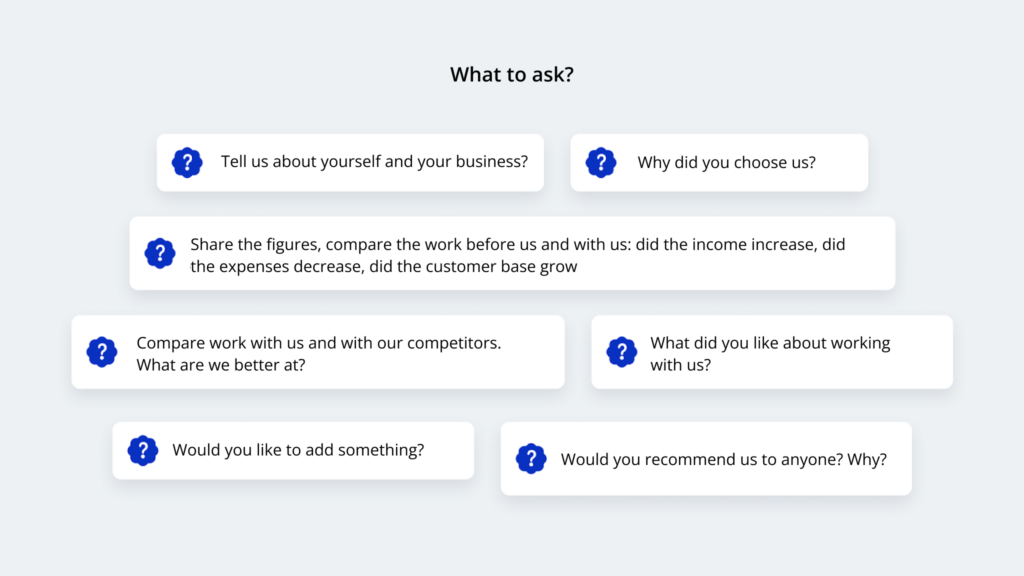 Questions for an interview-video review:
Tell us about yourself and your business
Why did you choose us?
Share the figures, compare the work before us and with us: did the income increase, did the expenses decrease, did the client base grow?*
What did you like most about working with us?
Compare working with us and working with our competitors. What are we better at?*
Would you recommend us to anyone else? Why?
Would you like to add something?
*the answers to these questions may be a secret, ask in advance.
Pay attention to the question "Would you recommend us to anyone else? Why?". This is the main part of the video. Most likely, the answer to this question will go into the title of the video and will be on promotional materials.
How to conduct an interview for a review?
We recommend that you use a video communication program with a call recording function. Zoom, Mind, Skype - contact any of them.
We recommend Mind for fast and efficient interviews. Send the link to the client - and he is in your video room. No additional downloads or registrations. Record the call and all that remains is a small montage, and you can upload it to the site!
Why Choose Mind:
call recording is available in the free plan
video review is available for download in your Mind account for 7 days
video call recording without additional programs
Register a Mind account, create a meeting room, invite a client to a call by sending a link to the room. When you're ready, click on the icon at the bottom of the screen.
the customer does not need to know how to use videoconferencing programs.
Send him a link to call. All the client needs to do is click on the link to go to the room. It will open in any browser . He does not need to download, register and perform other steps. You can join the call from anywhere. The main thing is the presence of the Internet.
If you liked the article, please share it on social media: