Return to portrait mode to see the content
Apr 20, 2021
·
3 min reading
5 ways to make video conferencing more effective than live meetings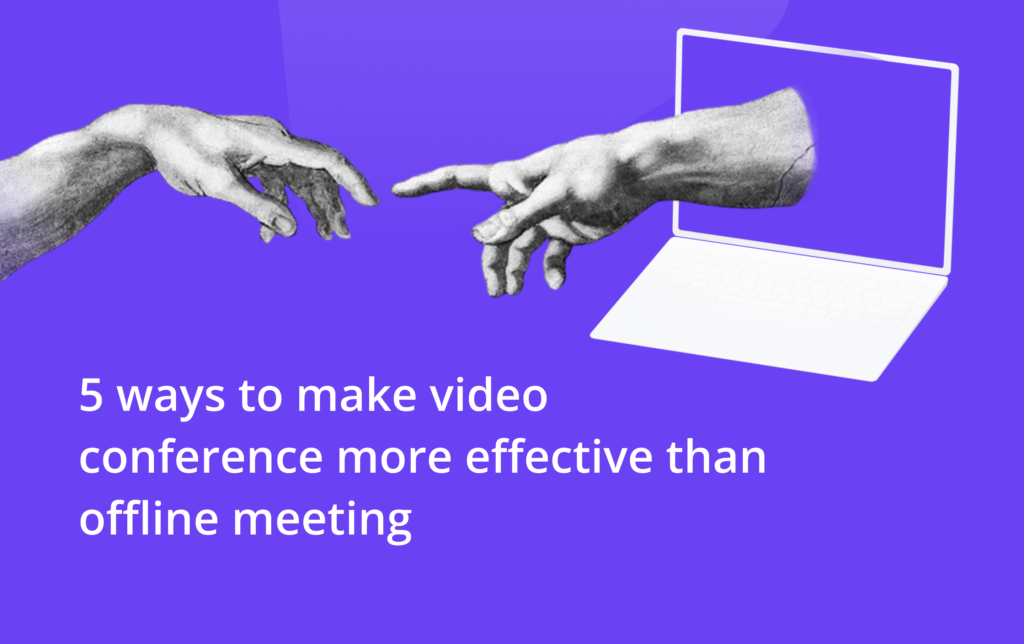 It has long been clear that videoconferencing meetings will come into our lives, and the coronavirus has only accelerated this process. How to increase the effectiveness of conferences compared to live communication? The Mind team will arm you with 5 tips to improve communication in a pandemic.
How can a video call be more effective than a face-to-face meeting?
If you have Internet access, whether you're in a business center in Los Angeles, under a palm tree in Hawaii, in cold Siberia, on a morning run in Japan, or even 10 km above the ground, you can participate in a video meeting. This is the main advantage of online meetings: you are not geographically tied to each other. For maximum mobility, the Russian video communication platform Mind works from computers, tablets and smartphones.
Record trainings, reports and presentations that you conduct via video link. For new employees, to join the work, it will be enough to look at the recordings, which will significantly save the time of the knowledge carrier during onboarding
Are you having a report meeting? Calling the design department to create a schedule? Brainstorm ideas for a hackathon? Screen sharing can save you a ton of time trying to explain what's going on. Life hack: share Google Doc or another online text editor, write ideas all together and show the screen to those who are just watching. In an offline meeting, this is not so convenient. You can stream multiple screens on Mind at the same time, so make the most of it!
Spend your morning parties
The best time to discuss the plan for the day with team members is in the morning. In large companies, it is problematic to hold them: it will be very noisy, and for some teams the rally may end earlier than others. And if the programmers are sitting next to active salespeople or very creative designers, it will be almost impossible to focus on the code. There are not so many negotiations, what to do? Get in touch via video call! Use phones if you're used to the stand-up format. Just stock up on noise canceling headphones if you work in open space 😉
It's a shame if the discussions of the three-hour conference get lost. The videoconference can be recorded and then reviewed if the idea is forgotten. A "live" meeting is not so easy to record on camera. How to record videoconferencing? On Mind, just click on 1 button - and the recording will start 🙂 Do not forget to get the consent of all participants. See instructions for recording here: how to record, how to download, how to watch. Go one step further and record conferences in multiple Mind account rooms at the same time!
Where else can video conferencing be used?
Video conferencing has found application in courts. Permission to turn on the microphone, Your Honor!
Of course, it is impossible (yet) to conduct examinations and take tests via videoconferencing, but it is quite possible to give an initial consultation without endangering the health of the patient and the doctor!
Instead of going to the cinema
The film business is suffering losses, and almost all content has moved to streaming services. Keep a life hack on how to watch a movie with friends. You start a video conference, open a movie and at the same time press Play. Hooray, you are at the cinema with the company without leaving your home!
Improve your workflow efficiency with Mind. Still not up to date with the trends of online events for business in 2021? The selection will be useful to managers and owners of companies.
If you liked the article, please share it on social media: