Return to portrait mode to see the content
Jul 1, 2021
·
5 min reading
How to sell online via video link to an offline business?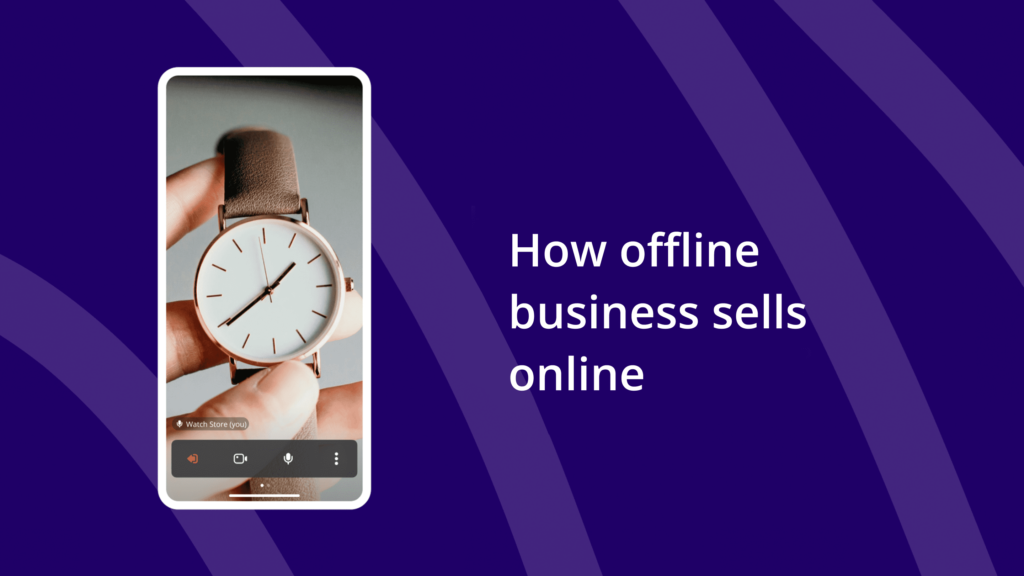 Let's talk about how you can use video to increase your online sales.
The article is suitable for businesses focused on other cities and countries; small business in the metropolis; sellers of expensive items, hand-made and other goods that the buyer first wants to look at from all sides, and then buy. There are life hacks for video chat service sellers.
First, we will give 6 reasons why to sell by video, then - what platforms are there for this. At the end - a bonus: a link to an overview of courier services - to make it easier to deliver the product to the buyer after a wonderful video presentation :).
How to sell online in a video conference? It will help if you have an offline business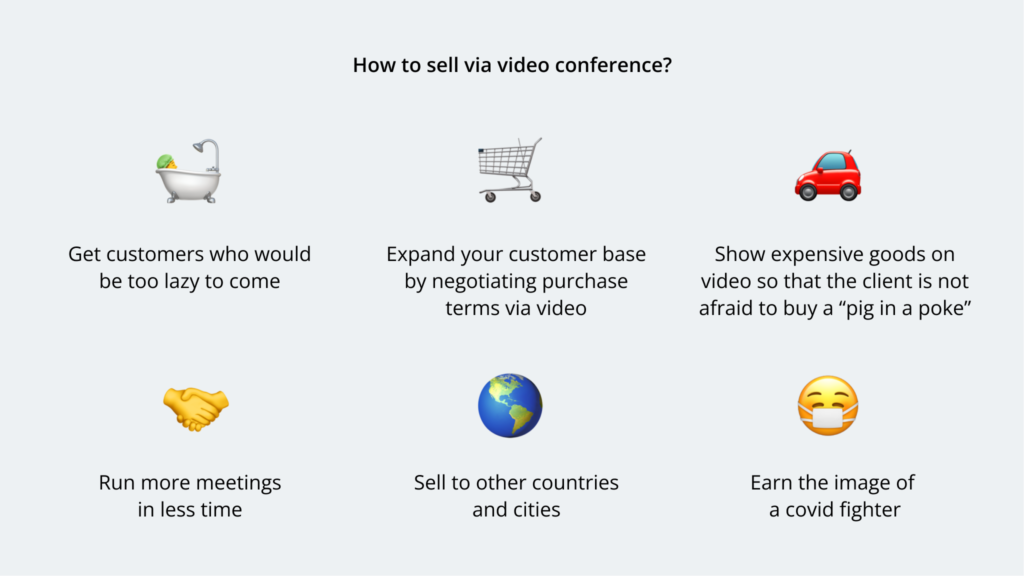 Get clients who would be too lazy to come
It's good if your stores are located in every quarter of the city. No need to think about how to trade online: customers will come and choose a product. But there are grocery stores everywhere, and more than half of the residents of big cities still order delivery . And if you have few points in the city, many buyers will not go to you: they will be busy or just lazy.
Example: children's centers where birthdays are held. Those who will conduct a video tour and save the client's time will get an advantage.
Expand your customer base by negotiating purchase terms via video
If customers in your industry don't buy without asking a lot of questions, save them time and have a video chat meeting.
Example: selling tours. Phone the client, do not force him to go to the other end of the city to your office. Show beautiful photos of tourist places on your screen and, if necessary, arrange a personal meeting.
Show expensive goods on video so that the client is not afraid to buy a "pig in a poke"
The buyer does not always have the opportunity to look at the product. If we are not talking about onions, but about something more important and expensive, no one will buy a "pig in a poke" .
Example: expensive purchases like a house or a car. How to sell them online? Cadillac responded by creating the Cadillac Live service. The seller with a camera approaches the car and shows it in detail from the outside and inside, answering questions via video chat.
Run more meetings in less time
With online sales, you reduce the risk of a customer being late for an appointment. If 1-2 meetings at the beginning of the day do not go according to schedule, then all plans for the day may break down, a "snowball" will start - someone will have to be rescheduled for tomorrow. It's harder to be late for a video meeting. Check the equipment before you start - and you're done!
Sell to other countries and cities
If your product is only available in one city or country, entering the international market will not be easy. Despite the presence of online stores like Amazon, Aliexpress, Ebay, few people will pay big money for serious purchases without being convinced of the quality of the goods. You have a chance to gain a competitive advantage if you introduce the product to the buyer via video. This is especially true for sellers of expensive items or for those who sell hand-made. How to sell online homemade things that are different every time? Guide the client by the handle through each point and notch.
Earn the image of a covid fighter
If a company is considered "green" – minimizing the environmental impact of its business – this increases its value in the eyes of consumers. In the modern world, a new misfortune is the coronavirus. Taking care of social distance and not forcing people to leave the apartment once again, you will get a good image.
Through which video conference to sell online?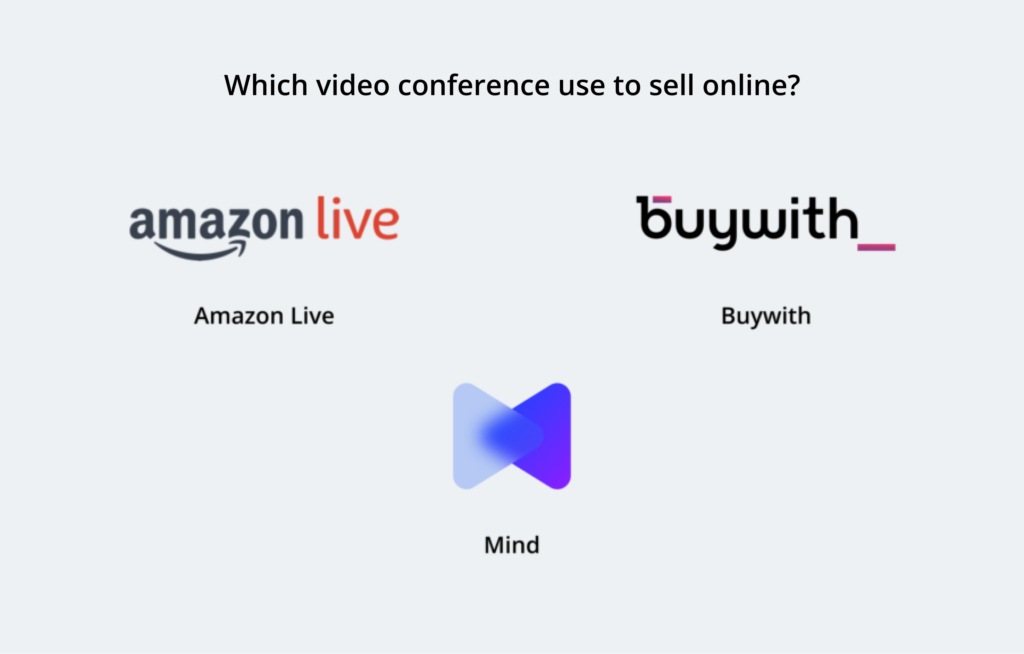 A service created by Amazon that connects sellers and buyers. Use Amazon Live Creator to create streams. Customers will find the product next to a video player, and brand streams are featured on product pages and on the Amazon Live homepage.
Platform for selling through screen sharing. It is used by influencers (users of social networks with a large audience) for online shopping with their followers. The platform has text and video chat.
Use the simultaneous demonstration of several screens to show products from different outlets side by side or in training.
Example : interior design courses. Imagine that you are teaching young designers how to use ArchiCAD. Start screen sharing and ask students to do the same. Now you can show "how it should be", and they can show "how it turned out" :).
On Mind, 12 call participants can share the screen at the same time.
Moving on, your students have grown up and are now working with you. A buyer has arrived. Together, show him up to 12 screens with designs at the same time - highlight how beautifully the details from different rooms combine with each other.
And if the client needs to consult with the family, but no one is at home, record this session with a demonstration. The buyer will show his family and get back to you with a decision.
You can enter the Mind video conference in 1 click, which will save time for you and the buyer: just send a link to the meeting.
Bonus: Overview of Delivery Services
Presenting a product and getting money for it is half the battle. We must now deliver it to the buyer. We have found an overview of courier services for you. Compare according to the parameters that are important to you.
Why would an offline business need to sell products via video?
How to increase online sales? Video calling will help you get new customers who cannot or do not want to come to your office to quickly discuss the terms before buying or to review the product. Serious purchases that are often made at a distance (house, car), it is advisable to show the buyer, or he will break loose.
Your processes and image will also take a step up, because selling by video saves time and makes you a company that cares.
If you liked the article, please share it on social media: