Return to portrait mode to see the content
Jun 10, 2021
·
6 min reading
What equipment is needed for a business conference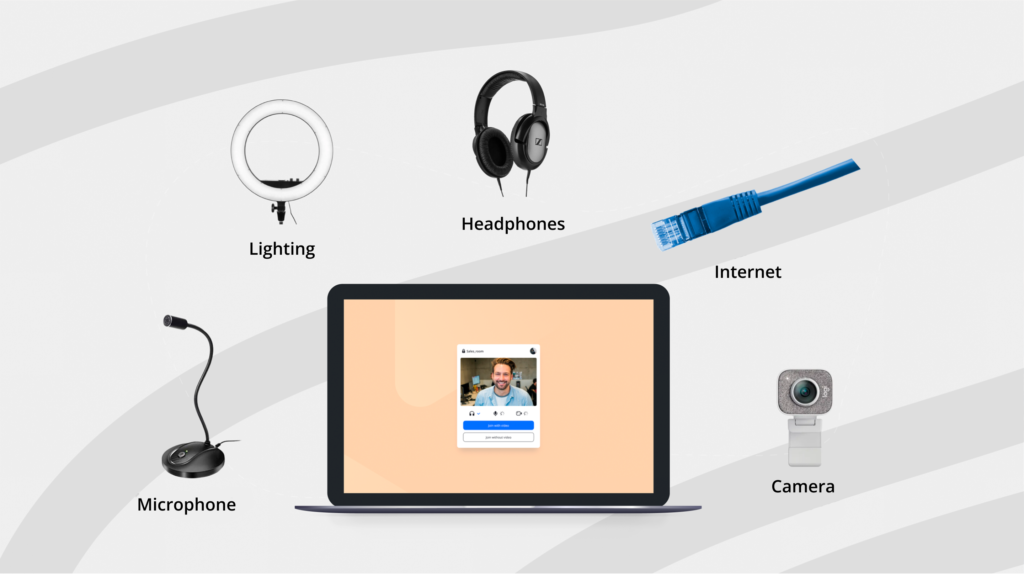 A video call is coming up. We recommend that you check your videoconferencing equipment: it's a shame if the call goes bad because it's of poor quality. Lawyer Rod Ponton did not do this before the video call in the 394th District Court of Texas. I had to prove to the judge and 10 million Youtube users that he was not a cat.
Some video communication platforms require their own equipment . This does not apply to web conferencing software such as Zoom, iMind, Teams. If your conference is web-based, get a microphone, headphones, a camera, and broadband internet access, plus an optional lamp.
Devices are not some special only for these programs - any will do. We will analyze each of the points and offer budget and expensive options:
Camera
Microphone
Headphones
Headset
Lamp
If you are looking for conference room equipment , check out this article on Habr .

List of video communication devices
Camera
A bad camera will ruin a video call, turning it into a regular phone call. The main thing to pay attention to when choosing a webcam is the resolution. Get a high-quality image with a resolution of 1280x720 (HD) and 1920x1080 (FullHD).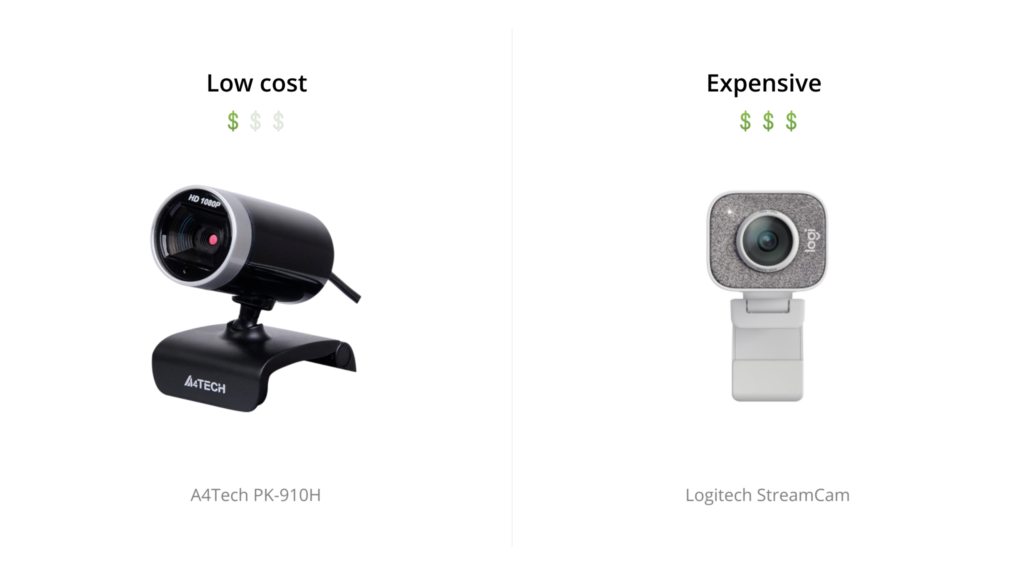 Budget option: A4Tech PK-910H. Approximately 2100 rubles.
The resolution of this camera is 1920x1080p - Full HD. The device is on a hinge - twist as you want. Also compatible with Linux.
Expensive option : Logitech StreamCam. Approximately 12500 rubles.
Full HD and 60 frames per second will raise the quality of your picture in a video call. This camera is also suitable for content creation. Chat with someone and want to record? Hosting a webinar? Logitech has autofocus and can track the movement of your face. Combine this with call recording and your video conference will be more effective than a live meeting!
Check the camera before entering the room. Having accepted the invitation to the conference, you will see a picture from the camera, which your interlocutors will see. Make sure there is nothing else in the frame and you look presentable. We talk more about etiquette and appearance here .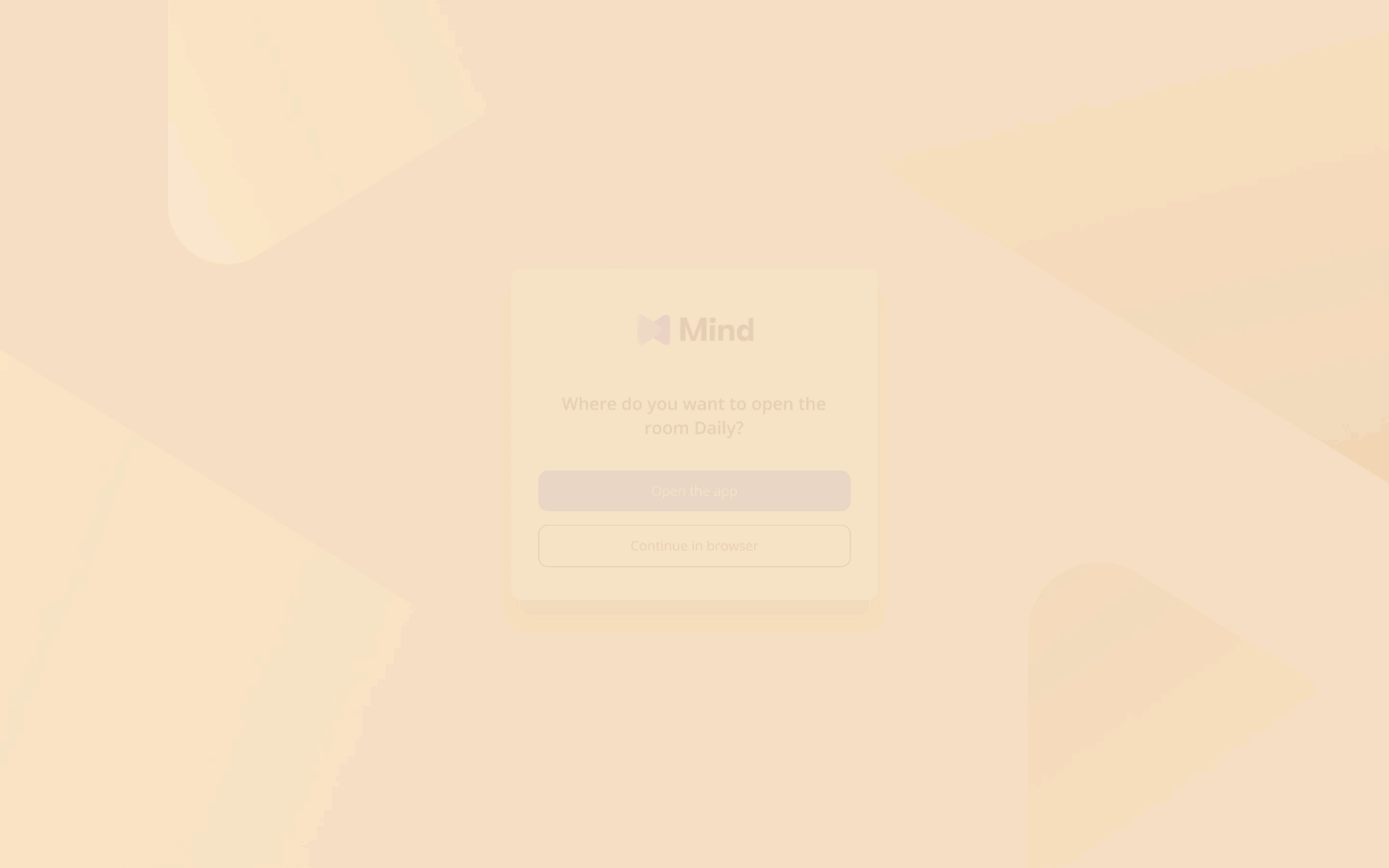 Microphone
An external microphone is what you need for high-quality video communication.
As with the camera, test the microphone before entering the room.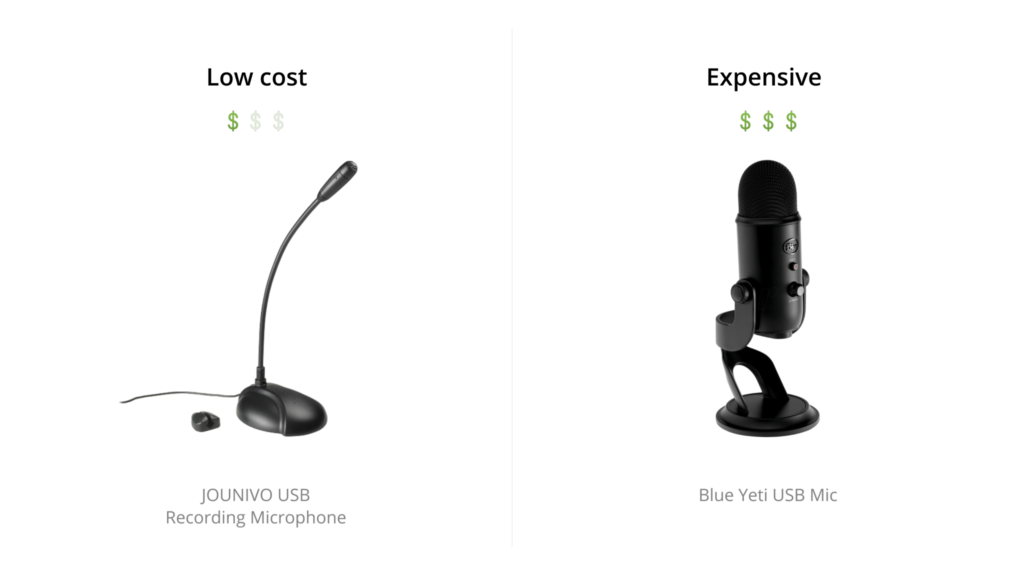 Budget option : JOUNIVO USB Recording Microphone. Approximately 2000 rubles.
A simple microphone with a backlight, on which you can turn off the sound. Despite the low cost, it gives good sound quality.
Expensive option : Blue Yeti USB Mic. Approximately 12,000 rubles.
Music is recorded with this microphone, and YouTube streamers and bloggers use it both for single videos and for interviews. The microphone has 4 modes that are suitable for 1-on-1 or 2-on-1 communication if you are sitting with a colleague.
Headphones
Don't buy speakers. They are only useful if there are many of you in the same room and you are watching a presentation via video link. And even in this case, it is better to use headphones. The sound quality in them is head and shoulders above that in the speakers, and they do not emit any noise.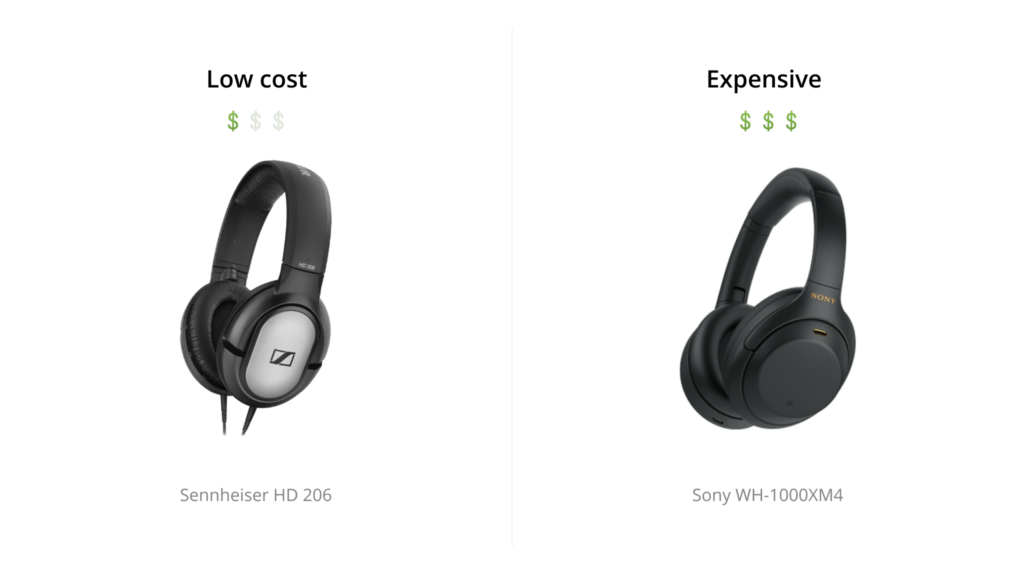 Budget option: Sennheiser HD 206. Approximately 1200 rubles.
Simple headphones with good sound quality. They have many options for adjusting the shape of the head and fit to the ears. They're cheap, they work well.
Expensive option: Sony WH-1000XM4. Approximately 30,000 rubles.
Sony's flagship wireless headphones give the impression that the other person is in front of you. Noise cancellation and 30-hour battery life, combined with soft cushions, will help with long conferences.
To test the headphones, turn on any video or song. If you hear - it works.
Headset
Headphones and a microphone can be purchased together as part of a headset. This is suitable for laptop users. PC owners may also find it convenient to get 2-in-1 video conferencing equipment.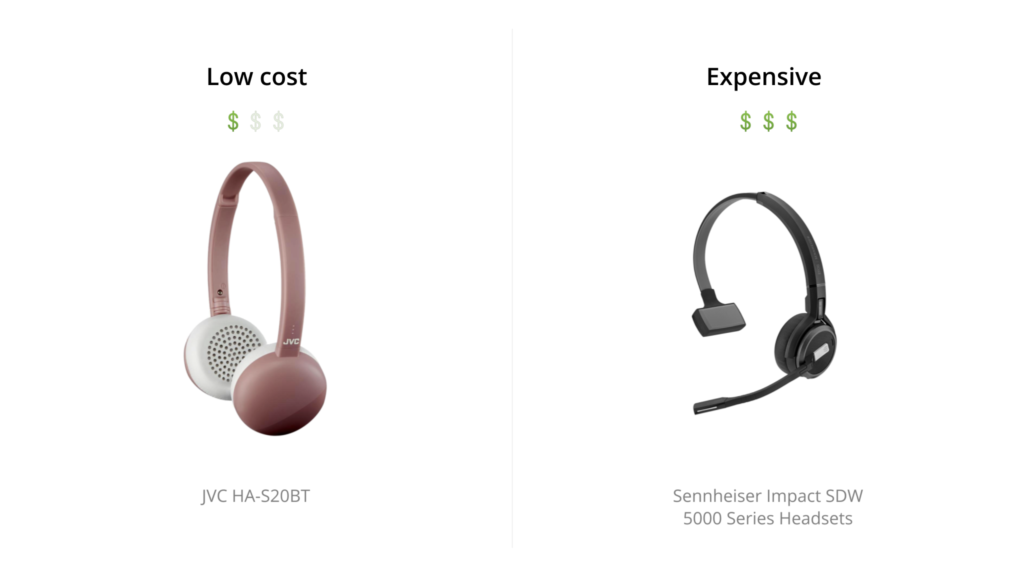 Budget option: JVC HA-S20BT. Approximately 2000 rubles.
This headset offers mic mute, light weight and 11 hours of battery life. There were some drawbacks - as of May 2021, it does not have active noise cancellation. The headset will be appreciated by those whose conferences last several hours - the head will not get tired.
An expensive option: Sennheiser Impact SDW 5000 Series Headsets. Approximately 22,000 rubles.
There are 39 options in this series. They do not differ much in price - a thousand rubles. Each headset allows you to rotate the microphone 360° and use it on headphones or as a loop. The headphones glow red when you use them, like the do not disturb icon in a hotel. The battery lives for 14 hours, and a half-hour charge is enough for 7 hours of work.
Lamp
Here we cheated a little: a special lamp is not a necessary equipment for video conferencing. Both daylight and a regular ceiling light will do. But if you want to look as beautiful as possible, without harsh shadows that emphasize wrinkles, buy a lamp.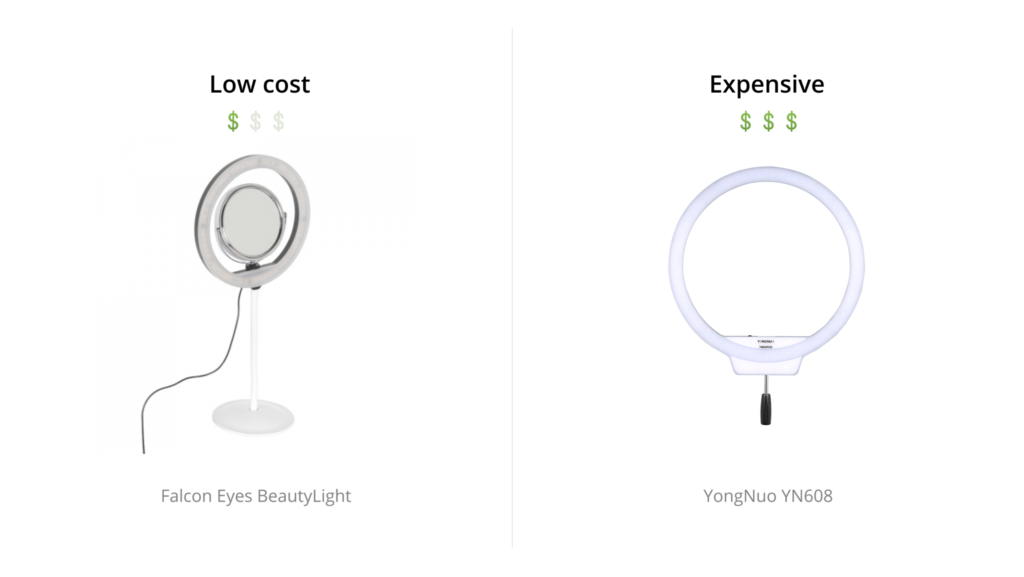 Budget option: Professional Live Stream. Approximately 770 rubles.
The light bulb has a mobile phone holder and a clothespin to put on the table. Of the minuses - it connects via USB, so iPhone owners need an adapter.
Expensive option: Boling BL-P1 Vlogger RGB 12W 2500-8500K. Approximately 11,000 rubles.
The lamp is small - smaller than the last iPhone, while it shines on all its 12 watts. It can be set to almost any color - a device with RGB (red, green, blue).
Broadband internet connection
We answer the question, what Internet speed is needed for video conferencing. Make sure it is above 600 kb/s for outgoing traffic (upload) and 1 Mb/s for incoming traffic (download). These are the minimum thresholds for web video conferencing, such as iMind . For comfortable meetings, we recommend 2 Mb/s for outgoing traffic and 10 Mb/s for incoming.
Check your connection speed with Speedtest . Just click on GO and wait. If the results are lower than expected, contact the operator.
Telephone
If you don't have conference room equipment at hand, go to a video call from your phone. The quality won't be as high as with expensive videoconferencing equipment , but that won't stop you from participating in the meeting. Create it yourself or go to the room using a link from colleagues. Your meeting will take place in the browser, you do not need to download anything else. The necessary devices (camera, microphone) are on every modern phone, but before the conference, make sure that the browser is updated to the latest version and the connection speed meets the requirements above.
Congratulations, you are ready for the conference!
PS If you are thinking about which video conferencing program to use, read "Video conferencing for business: how to choose, create and conduct?" , we tried to help you choose, in simple language.
If you liked the article, please share it on social media: