Return to portrait mode to see the content
Jun 3, 2021
·
5 min reading
Video Conferencing Etiquette: 8 Tips for Making Quick Deals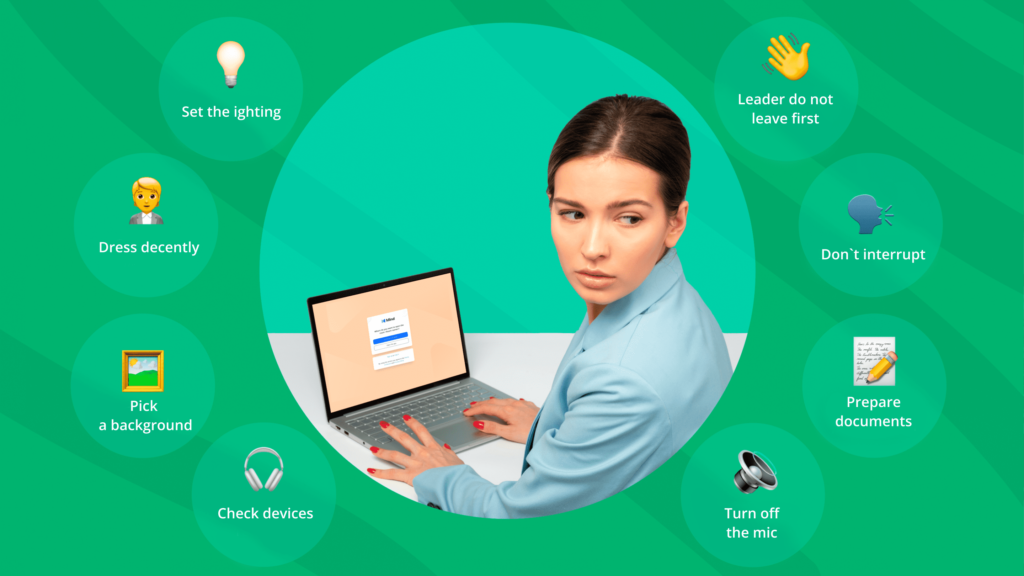 We are used to holding business meetings online - it's easier, faster and safer. But there is one feature that few people think about. We know exactly how to negotiate in real life and not lose face. To master the system of business communication requirements, you can take business etiquette courses, read a book, or consult with experts in the field. Videoconferencing etiquette is still a mystery: the rules of conduct in the digital environment are not clearly spelled out anywhere. To understand how the rules of propriety for video calls work, you need to know how others are learning the rules of this new virtual game. In this article, we'll show you how to avoid embarrassing situations during important video calls.
8 rules for an effective online business meeting
Start by checking in advance how you will look in the frame. Even if you do not consider yourself a photogenic person, there are simple guidelines to get a beautiful picture.
1. Adjust your lighting so you can be seen
Do not sit in front of a window. If the light source is from behind, you look like a dark spot, your face is not visible. You will look minimally acceptable if you put a light source behind the camera. Better if 2 light sources - on both sides of the camera and 1 behind. Ideally, if these are natural light sources. The face looks fresh, wrinkles are not emphasized. Artificial light sources are often dimmer and cast unsightly shadows on the face.
If you want to look flawless in an online meeting at any time of the day, we advise you to purchase a ring lamp . It gives a soft uniform light, there will be practically no shadows on your face, and a characteristic shine will appear in your eyes. Choose a lamp that comes with a table stand. An example of a budget option is Falcon Eyes BeautyLight. In addition to the lamp, the kit comes with a stand, a mirror, phone and camera mounts. There is a more expensive version of YongNuo YN608 with more LEDs. The brand is popular with bloggers and video professionals.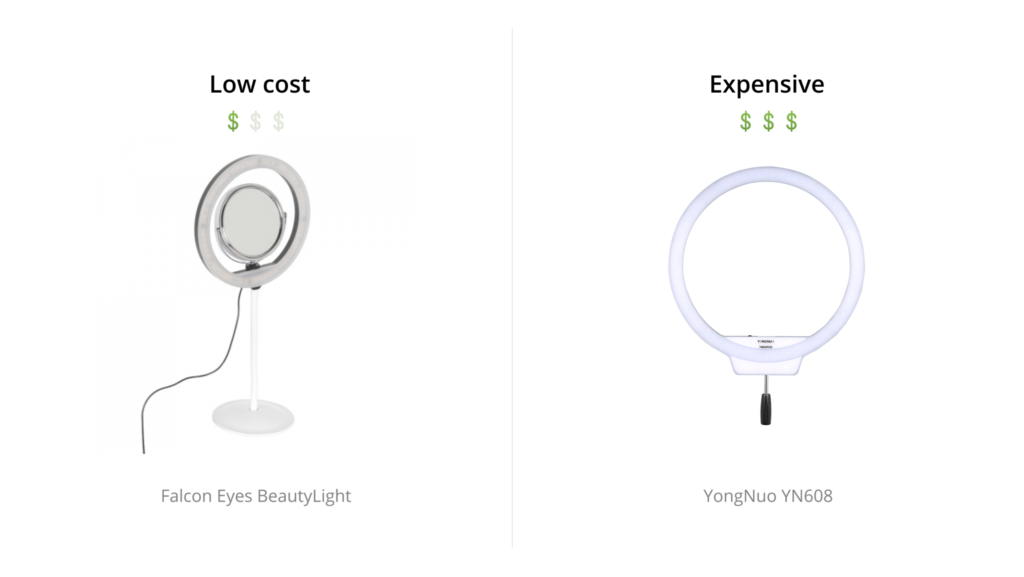 2. Dress for a business meeting
Will you come to a business meeting in pajamas? What about a jacket but no pants? Don't come to an online meeting either. You cannot guarantee that you will not forget and get up, especially if the negotiations are stressful. Clothing other than at home has a positive effect on your image and productivity.
Avoid large decorations : they glare and distort the picture. For the same reason, do not wear geometric patterns.
3. Take care of the background
Mountains of dirty dishes or a collection of Lego figures behind your back distract from negotiations. It is not necessary to start a spring cleaning to comply with video conference etiquette - choose a place in the house where there will be a minimum of distractions or change the background in the call settings.
4. Check the technique in advance
This applies not only to headphones, a microphone and a camera, but also to the platform where the virtual meeting will take place. Read about how to do this in the article about equipment for an online conference . Do not repeat the experience of lawyer Rod Ponton, who defended a client in an online court session with a cat filter on his face. Ponton admitted that the child changed the settings and did not know how to turn off the filter.
5. Remember the microphone
Do not break professional ethics - turn off the sound when you do not speak.
There is a thread on Reddit where members share embarrassing moments when they didn't turn off the microphone in time:
"It was during an online physical education lesson. The girl forgot to turn off the microphone and started shouting obscene language during the exercises." — 0skyturtle
6. Let everyone have their say
The basic rule of decency to follow during an online conference. Keep in mind that participants may be from different cities and countries, so the signal may be delayed. Even if communication is good, give participants time to formulate an answer to a difficult question. Don't interrupt.
7. Prepare the necessary documents in advance
Don't waste your colleagues' time searching for materials. Save the documents you need in advance and send them before the discussion begins. Share multiple screens to compare your peers' results and reports.
8. If you are the host, stay late.
It looks strange when the host of the evening leaves him first. Videoconference etiquette assumes that all participants can have their final say and leave the conference at their own pace. The situation is not critical, but it will turn out ugly.
Conclusion
The most important rule of etiquette is caring and consideration for other people. Rupert Wesson, director of coaching company Debrett's , says the company doesn't follow strict rules, but follows general etiquette guidelines. If you already know negotiation etiquette, you can easily master the rules of behavior in the digital environment.
Did you notice that the rules did not include "call from your workplace"? This is no coincidence. Connect to a video call from anywhere from any device without downloads.
If you liked the article, please share it on social media: